Description
Watch a short introduction video of the Photoshop Tutorial Software… / Aka the Photoshop Bandit Software (plugin):
PHOTOSHOP TUTORIAL SOFTWARE
An efficient learning system that is a world first!
Our proprietary plugin is the
WORLD'S FIRST
Photoshop course/software
integrating itself into and appearing within the main software to teach you
how to use this awesome software that is, on the other hand, difficult to master without external help. This provides unprecedented advantages when it comes to
learning Photoshop.

Why this type of tutorial is considered a world first?!
Our course is provided as a PLUGIN (software extension) type learning system. This means our software appears !WITHIN! Photoshop on its own panel.
Our Photoshop Tutorial Software
aka the Photoshop Bandit Tutorial Plugin includes:
A COMPLETE learning course available from within Photoshop!
~40 video tutorials (with our special autoplay function)
20 lesson groups – With 3 lessons on average (yes, this means more than 60 lessons)
~50 sample images able to be opened !directly from within Photoshop! with a single mouse click
Interactive resources and a fast, easy to use learning software
Available in English
The tutorial plugin's lessons cover levels from total beginner to serious advanced learner full table of contents >> see the "Table of contents" tab (above)
Quizzes at the end of lessons
1 year update license (you can continue to use the software after it's expired!)
For Windows and Mac
FREE BASIC VERSION of the Photoshop Tutorial Software
  Available here >>

| | |
| --- | --- |
| | Whether you're post-processing landscapes |

| | |
| --- | --- |
| Or retouching portraits | |

Bundle including all of our software products for a DISCOUNTED PRICE!!
Available here >>

FREE basic version of the Photoshop Tutorial Software

Photoshop Learning Course The software's menu The complete training takes place
within Photoshop's window.
A collapsible side menu provides an
easy way to switch between lessons.
You have easy access to anything you need
for your development or if you just want to read something.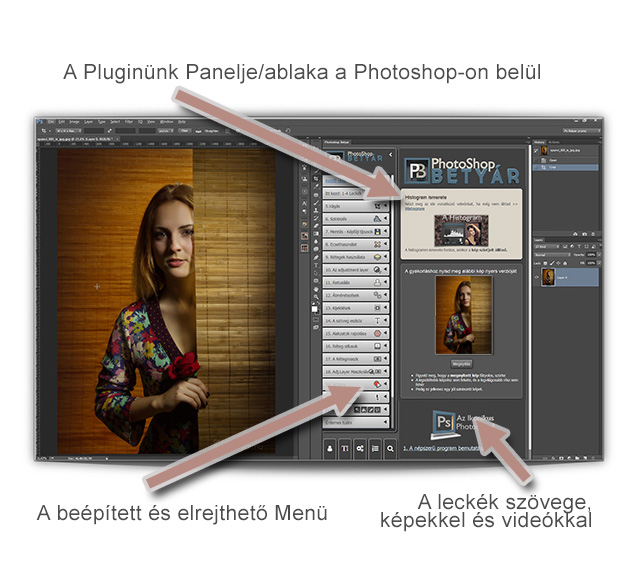 Whether it's changing a background, some adjustment or everyday baby photography tricks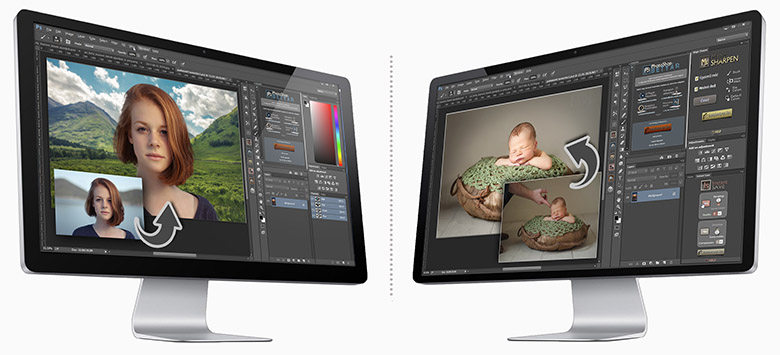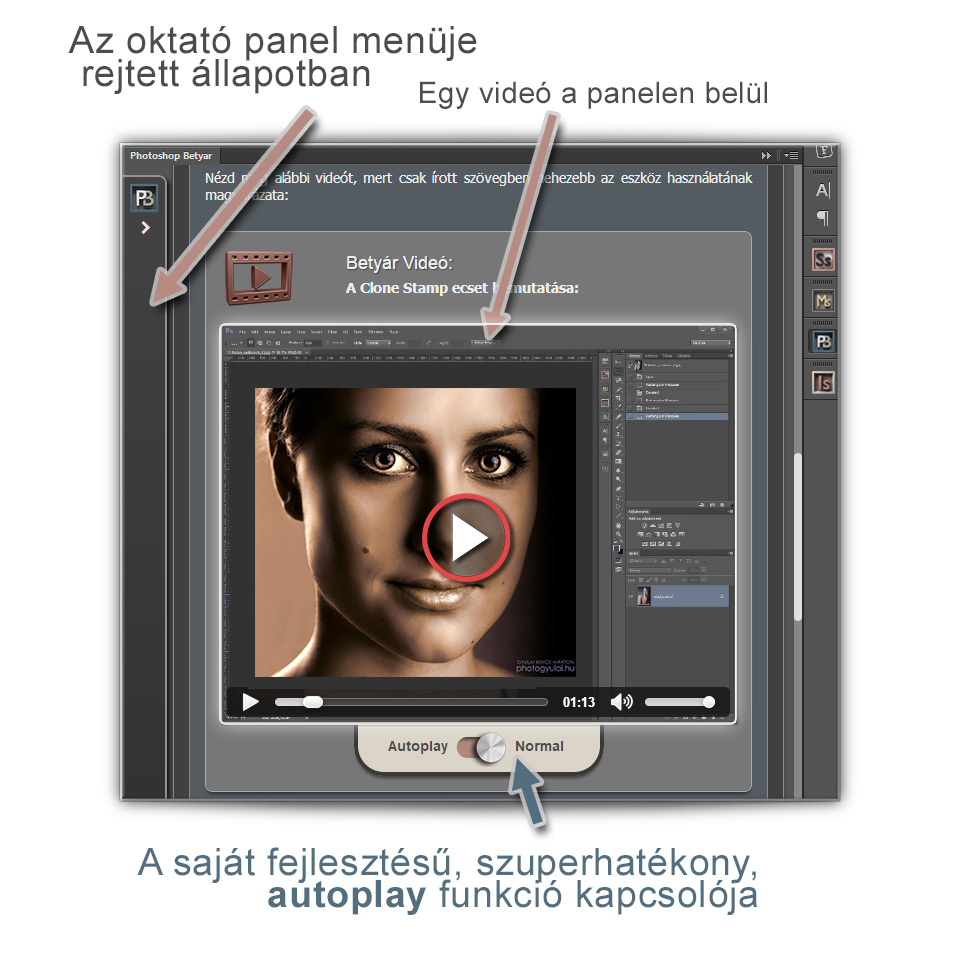 Advantages of our Photoshop Tutorial Software (plugin):
The tutorial software works within Photoshop, so there's no need to switch between various learning materials/videos and Photoshop all the time, which is very time-consuming, frustrating and ineffective
Our tutorial videos and images can be accessed from within Photoshop by default
Sample images included in lessons can be opened with a single mouse click… no need to wander around in folders looking for them or to download them
Since our program is also a Photoshop Plugin, it is able to control the main software:

Opening panels >> one single click
Selecting the right tool >> one single click

Exhaustive and comprehensive learning material, edited by experienced and professional instructors
Such 21st century, much world-class quality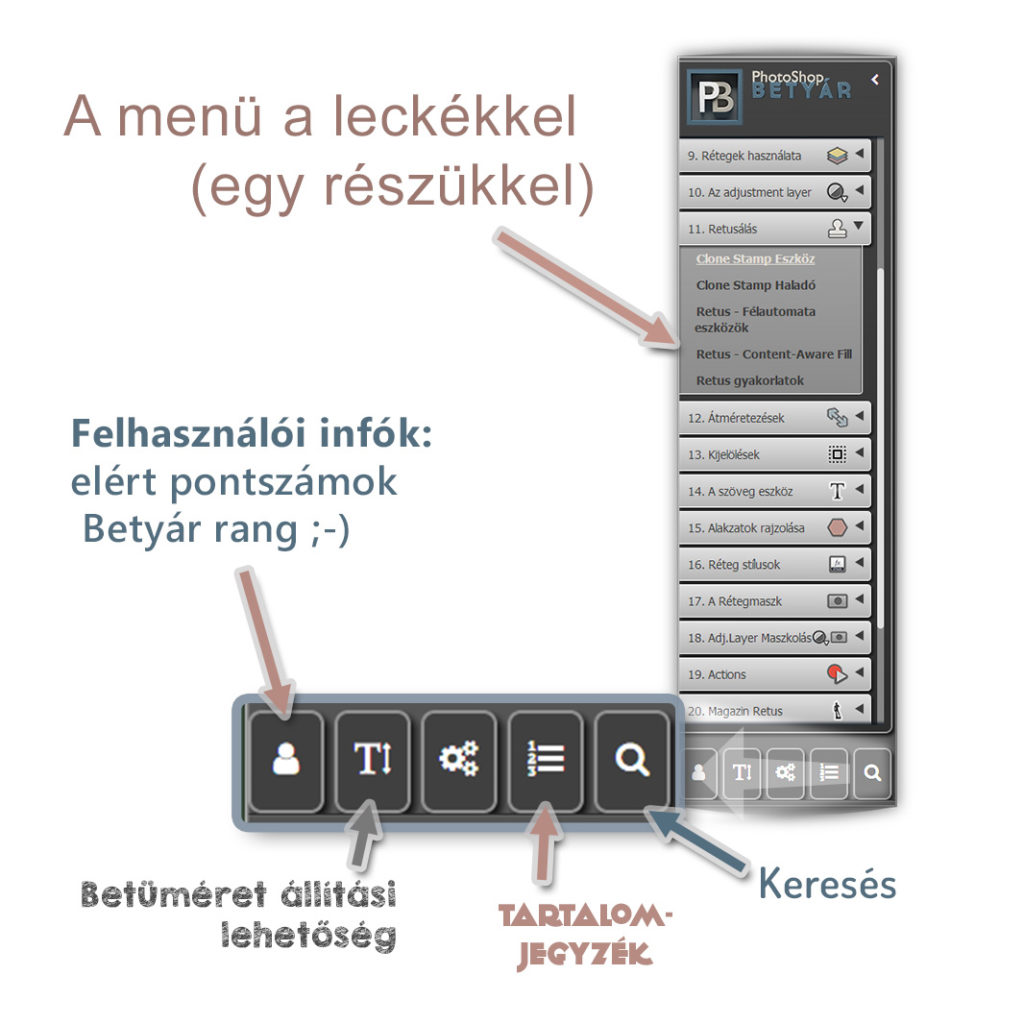 It's strongly recommended to use Photoshop in English! Using localized versions of Photoshop is DEFINITELY NOT RECOMMENDED and, consequently, descriptions also follow the English version.

Should you need "any" help with the software, visit our PRODUCT SUPPORT PAGE >>
More info:
We've been devoting a lot of attention and effort to the product support of our plugins. All of the products have their own "helping" pages with dedicated information.
The product support page for the Photoshop Bandit plugin is available here >>
Unfortunately, we can NOT provide product support by email of phone
Money back guarantee:
This is very simple: if it turns out you don't like the product you bought and you inform us about this within 14 calendar days (according to Section 20 of Government Decree 45/2014 (26 February)), we pay back the price of concerned products without asking any questions!
How to buy and install the product:
Put it in the shopping cart and buy it
Following a successful purchase, the download link to the plugin's installation files will be sent to you by email
The same email will include your activation code for unlocking all the skills of that plugin
This email will also contain links to help pages about installation and activation, but you can also visit our Product Support page created for the same purpose
How to install the product:
Unpack the downloaded zip file (see the videos below for help)
You can get help with the installation on our YouTube channel in the following videos
But you can also visit our Product Support page created for the same purpose
The downloaded file includes all software necessary for the installation

| | |
| --- | --- |
| | Whether it's post-processing portraits or retouching photos |

| | |
| --- | --- |
| Or shots with practically any subjects | |
FAQ (Frequently Asked Questions) section
What the hey is the "AUTOPLAY" function?
Answer:
The
AUTOPLAY function is our own development
and it means that
videos are only played when the cursor is over the video
… when you move it away (to activate/open a tool or function seen in the video),
the video pauses
and starts playing again only if you hover your cursor over it!
This is what we call AUTOPLAY
and the fact that students don't have to hassle with stopping, restarting and occasionally rewinding videos all the time makes understanding and following video material so damn
easier and faster!
A one year update license means the following:
Our software products remain usable with compatible Photoshops after the period of 1 year from the date of purchase
However, updating to plugins for Photoshops released after the period of 1 year is only possible by renewing the update license
Question: If a new Photoshop version and a corresponding Photoshop Bandit plugin is released within the 1 year period from the date of purchase, am I allowed to update to it?!
Answer: Yes! Any updates we release within a one year period can be downloaded, installed and used.
---
Question: If a new Photoshop version OR a corresponding plugin is released after the 1 year period from the date of purchase, am I allowed to update to it?!
Answer: NOT for free! However, you'll have the option to renew your update license.
---
Question: Can I use the purchased plugin after the 1 year period with the Photoshop I had been using it with "originally" (within the 1 year period)?!
Answer: Yes! Each plugin is compatible with specific versions >> this won't change after the one year period and we won't disable the user's license either, you just won't be able to download new releases for newer versions
---

Bundle including all of our plugins for a DISCOUNTED PRICE!! Available here >>

FREE introductory version of the Online Photoshop Learning Course Available here >>